Doctors Cassie and Brian McCracken have been licensed Chiropractors since 2005. After getting married in June of 2007, they moved to Dover to start their own Chiropractic practice. They have 3 sons Ki, Zeke and Dax. It is their vision to create a community of individuals and families seeking to improve their lives by taking and maintaining responsibility for the health of themselves and their families. Through community education, and by providing an environment of growth and healing, Dr. Cassie and Dr. Brian are passionate about...
Keeping You Healthy Through the Motions of Life!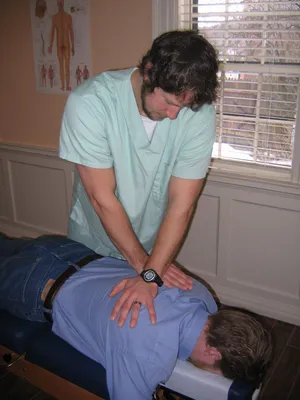 Dr. Brian earned his Bachelor of Science from Mid-Atlantic Christian University in North Carolina and his Doctorate of Chiropractic from Logan College of Chiropractic. He then moved to the great northeast where he practiced in Boston for 6 months before taking a position as an associate doctor in Newburyport, Ma. Despite working 5-6 days a week Dr. Brian still finds time to coach Junior Olympic Volleyball, rock climb at the climbing gym, work out at Seacoast Kettlebell and is always excited to be active outside with snowboarding, surfing, swimming, running, golfing, biking and hiking. All these things fit so well in his philosophy that Life Is Motion! Dr. Brian has worked with athletes of all ages and all abilities from the profession marathoner to the middle-schooler just beginning a sport. Through chiropractic care he has helped the body increase reaction time, increase flexibility, and increase strength and endurance.
Dr. Cassie began her study of the human body and motion as early as possible being a student of dance since she was 3 years old. She continued her study of dance and science as a dance major at Connecticut College and an Exercise Physiology major at UMASS-Lowell. She completed her Bachelor of Science and Doctorate of Chiropractic at Logan College of Chiropractic in St. Louis, Missouri, in 2005. Upon returning to her home state of Massachusetts, Dr. Cassie built a successful chiropractic practice in Cambridge, where she had the opportunity to work with elite dancers and athletes in the Boston area, as well as pursue her other passion of dance and performing. In the Summer of 2013 Dr. Cassie opened Barrelogic, LLC in Portsmouth, NH which is a fitness based wellness center. She continues to see patients there while teaching barre method fitness classes. Dr. Cassie is excited to bring her knowledge and experience to Portsmouth, NH, where she is fulfilling her dream.
At In Motion Chiropractic, we use a "whole person approach" when taking care of our patients. By combining the very best hands-on-technique, state of the art physiotherapy procedures, and providing the newest and best natural vitamins and mineral supplements on the market today, we are able to help you accelerate and/or maintain your journey to good health.
Dr. Darin Daniel

Dr. Darin Daniel earned his Doctorate in Chiropractic degree from University of Bridgeport College of Chiropractic in 2018 and is board-certified in Adjunctive Therapies. Shortly after his graduation, he moved to Philadelphia, PA to be part of a pain management team that included MDs and NPs treating chronic pain and opioid reduction through non-operative methods. His passion for an evidence-based integrative approach has found him a home with In Motion Chiropractic.

Dr. Daniel implements various techniques to properly assess and deliver appropriate and individualized treatments to patients. He is well-versed in the application of multiple modalities and treatment techniques such as therapeutic ultrasound, electrical stimulation, low- level lasers, instrument-assisted soft tissue manipulation and spinal decompression. He has also obtained certifications in Active Release Technique for the Spine and Lower Extremity, Kineseo taping and FAKTR Method soft-tissue treatment.
In his free time Dr. Daniel loves strength training, exploring the mountains, beaches and restaurants in the New England area with his wife.